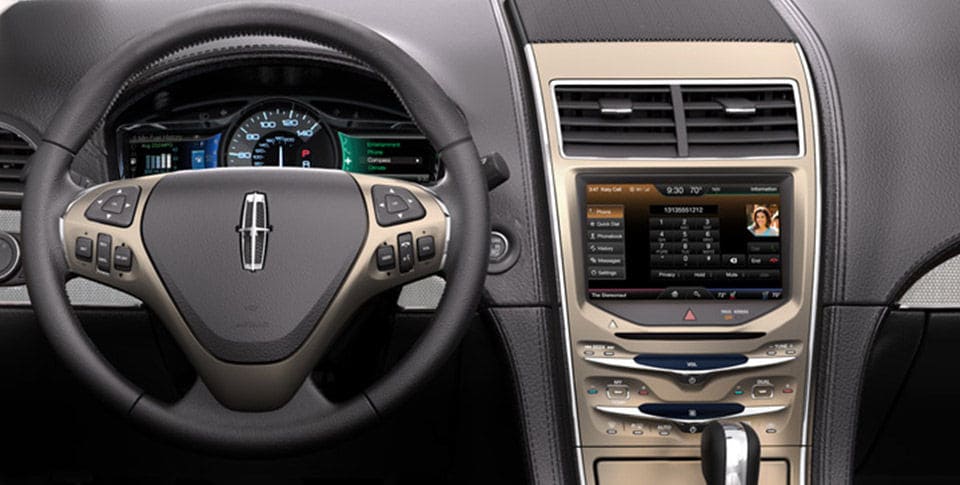 SYNC Comes in Different Ways.
SYNC with MyLincoln Touch keeps you connected with advanced voice-activated technology. Use your voice to make a call, listen to music and much more. An intelligently organized screen features four quadrants that help keep you connected while keeping your eyes on the road and your hands on the wheel.
SYNC 3 allows you to enjoy all of SYNC with MyLincoln Touch features, plus our next generation of voice-activated technology. New easy-to-use design. New interface. New features. SYNC 3 is responsive and innovative. Discover how SYNC 3 delivers next-level connectivity to your busy life.
Not all phones are supported so make sure you check if your
smartphone
is compatible with SYNC.
Benefits of SYNC:
Hands-Free Calling

No-Extra-Charge 911 Assist

Listen to Everything with SiriusXM Sa

tellite Radio
LCD Screen

Voice Recognition

Available Navigation with SiriusXM Travel and Traffic Link

Siri

®

 Seamless Integration

Climate Control

Automatic Updates over Wi-Fi
MyLincoln Touch is about as capable and refined as a system can get. 
The first thing you should know about MyLincoln Touch is that the name is a bit ironic. It may be called "Touch" but the system recognizes up to 10,000 voice commands.Your tactile interaction will likely be kept to a minimum.
Even so, the 8-inch touchscreen with sliders make for extremely easy manipulation of climate settings. You can effortlessly set the dual-zone climate control through use of the sliders.
The Touch system also offers a Vehicle Health Report. It's like being able to talk directly to your vehicle about what may be wrong and what it needs. Diagnostics and scheduled maintenance are all available through the report. You can even schedule service with your dealership through the MyLincoln Touch.
MyLincoln Touch is fully Wi-Fi capable. You have the option of turning your system into a hotspot, allowing your devices, like phones and tablets, to connect to a fast and reliable network. With voice-activated navigation, the Touch system allows you to route and reroute with the use of voice commands.
MyLincoln Touch is available on the Lincoln MKC, Lincoln MKX, Lincoln MKT, and the Lincoln Navigator.
Revel Audio System at Lincoln of Troy
Along with the MyLincoln Touch system, the Lincoln Continental, Lincoln MKZ, and Lincoln MKX models also have the advantage of the Revel Audio system, which is one of the most innovative audio systems in the industry. At Lincoln of Troy, located in Troy, MI, we have installed a Revel Audio System in our Lincoln Black Label Lounge, in order to provide our clients with a realistic listening experience.
Most of the audio systems you will find on other vehicles are designed only so that you "hear" the music above the din of an ill-tuned powertrain. The Revel Audio System found in Lincoln models is designed so that you can become fully immersed in the experience while listening to your favorite song.
By using what is called "point source architecture," Revel and Lincoln engineers are able to position all 14 speakers so that all of the frequencies reach your ear at the same time. This is extremely important to a non-compromised musical reproduction. Speaker placement is optimized for each Lincoln model offering the Revel Audio System. It is not one-size-fits-all.
The superiority of the Revel Audio System is about the use of top-notch, refined components, which is why Revel uses a hybrid amplifier that can provide audio clarity at any volume, and the use of field-balancing shorting rings to reduce distortion.
The available Revel Audio System is simply another option that helps give Lincoln models the edge over any competition.
Browse our current Lincoln inventory to find the right vehicle for you.